Despite the market's attempt to cocoon souls in their self-enclosed mesh, men and women are actually meant to love, not hate each other. They need each other to foster nurturing relationships

Brian Mendonca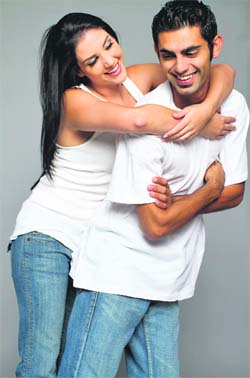 R
ELATIONS
between men and women, if tenuous before, are even more fragile today. With the hype on individuality and the consumerist boom promoting a panacea of possessions, more men and women have been seduced by the spiel to end up single, unhappy and lonely. Rather than realising that men and women need each other to foster supportive, nurturing relationships, the sexes have widened the abyss between them in the 21st century. Marriages are floundering due to lack of adjustment. Many who are not married as yet don't want to get into it. Ostrich-like they bury themselves further in their work.
There have been protests demanding justice for women. Many men hitting middle age will avidly discuss incidents — almost vicariously — but balk at joining in a silent march for women's rights. "It's a women's issue," some men feel — the same men who are conspicuously absent in rallies for gender equality.
On Valentine's Day, students in a women's college in Goa danced for the online movement "1 billion rising." Earlier on a rally was taken out to protest the Delhi rape. In both cases the activity was sans men. One gent actually ran out of the room during V- Day protesting that the music on the intercom was too loud! Is this apathy endemic? The irony is that participation by men at women's rallies may itself be seen as suspect. So what are males to do? How to bridge this trust deficit? How to overcome the unwarranted generalisation, though seductive, that all men are predators?
The skirt walk in Bangalore, promoted on Facebook, raised awareness to contest the view that women invite violence for what they wear. The 25 men who donned skirts were all young professionals who cared a damn for what people thought. What they wanted was change and believed they were agents to bring this about. Social networking platforms were the new mantra. Can this new brigade turn the tide for India? For today's youth, it would seem sexuality is out there in the open. The brazen display of the illicit on a ramp walk, gives men, and women, confused notions of what it means to be "with it" or left behind. Do women want intimacy, or sex, or both?
What is most important is appreciation for each other. We were in a tizzy to catch a sitar recital of Ustad Chhote Rahimat Khan at Carpe Diem Art and Learning centre, Majorda, Goa. I disappeared for a bath. When I had finished Queenie was still combing her hair! "Oh, come on, ma," I said, but meant "Is that all you were doing all this time?!' A pause followed. Then Queenie said something like, "I kept the food out for dad; changed baba's clothes; packed his baby bag, prepared his meal and hunted for his sipper."' After doing all these things she had resumed combing her hair. As I gratefully scooped our two-year old tot in my arms, I felt infinitely blessed for the gift of Queenie in my life.
"How to date a 19-year-old, insatiable, up-all-night bombshell, by a 47-year-old, separated father of two" screams the title of an article (with sultry pix) in a recent GQ. Let's get real. Even if "House of Harlot" is an uber- cool brand name in Vogue. Life is not a fantasy. At social functions all the songs the young are dancing to valorize sex. "Sexy laidaaay" goes the South (?) Korean super-hit thumping away. Romance is passe.' Vacant tables for two yawned at us when we went for the Valentine's Day special hosted by a beach resort on a candle-lit dusk. The music was good, and the food passable and one could hold hands. Despite the market's attempt to cocoon souls in their mesh, men and women are actually meant to love not hate each other — or ignore each other for that matter.
— The writer is a Goa-based poet and writer
-------------------------------------------------------------------
Published in Spectrum on Sunday, Tribune, Chandigarh, India on 3 March, 2013. www.tribuneindia.com
http://www.tribuneindia.com/2013/20130303/spectrum/main2.htm