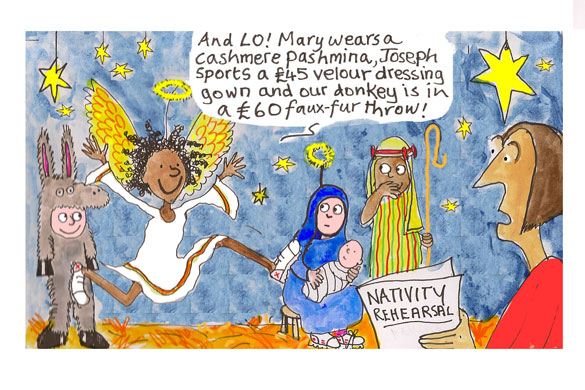 As we returned home after Christmas midnight Mass we were somewhat shocked to notice that none of the stars we had seen displayed over the past week in our locality, were lit. We sadly put it down to the ignorance of people who nowadays celebrate any festival as a fad, not being touched by the true meaning of the occasion.
We looked at our simple white star on our terrace. The star is put on every night - beginning from the night after Christ is born on Christmas night, i.e. 24th December night, till the feast of the three kings on 6 Jan - as Christmas is traditionally celebrated in Goa. The decorations and Christmas tree will also remain till 6th.
Like it or not, Christmas today is a consumerist's delight with everything up for sale - from mittens to homemade chocolates. But are we missing the point beyond a point?
Christ was born in a cowshed. He didn't have many people come to see Him. His message of humility endures even today. Christmas is about the inner experience of Jesus coming into the world. To be touched by the miracle of God made man and come to us as man, as a newborn baby.
Indulging in excess seldom satisfies. Reaching out to our less-privileged brothers and sisters is a more apt way to remember the first Christmas. Mindless buying insensitizes us to feeling for another as one believes anything is buyable - even life.
It is easy to be taken for a ride by Santa's sleigh of goodies while inconvenient people are being murdered because they are pursuing information under the RTI act - as Shashidhar Mishra was in Barauni, Bihar yesterday. Jesus - and Shashidhar died for a better world. How far are we prepared to go?
--------------------------------------------------------------------------------------
Cartoon by Ros Asquith from 'Christmas in the Classroom' series in The Guardian; Article: Dying for data- the Indian activist killed for asking for asking too many questions:
http://www.guardian.co.uk/world/2010/dec/27/india-rti-activists-deaths?INTCMP=SRCH